I can't believe it but my son's three year birthday is coming up in October!!! Where has the time again! It seems only yesterday that I became a first time mother of this beautiful, rambunctious baby boy!
This year, he wanted a train/Thomas the Train birthday party so when Amy from
Inspired Inceptions
reached out to have her Etsy Shop featured, I immediately started searching to see if she had any Thomas birthday shirts for my son to wear at his birthday party! And SHE DID!!!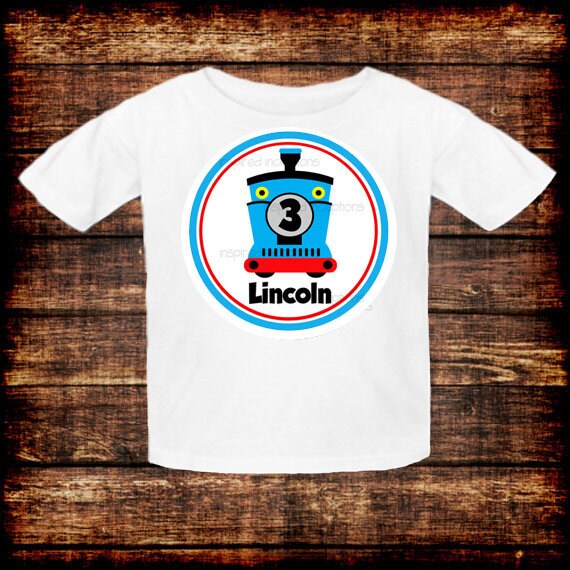 Amy is a full time wife, mom, friend, and crafter. She started her business of making heat press shirts after having her son Nolan. Now she has turned it into a business that she LOVES!! She loves coming up with new ideas and working with customers to create a personalized shirt just for them. If you have an idea for a shirt but don't see it on her site, don't hesitate to ask and I bet she can make it!! And best of all, there is
NO extra charge for custom designs
!
Children's shirts start off $17.99. She can do long sleeves and colored shirts but they are an additional charge.
The minute my son saw his super cute Thomas the Train with Birthday Number T-shirt, he was jumping up and down with excitement! I loved that we got to personalize the shirt with his name and 3 for how old he will be at his birthday party!
The shirt is high quality and soft material and the picture seems to be really stuck on there and not going to peel off or fade! The shirt is a little big (it is a 3T) on my son but I am not surprised because he is such a tiny guy! (He finally just grew out of some 18 months clothes and he will be THREE!)
I can't wait to show you all his upcoming birthday pictures with him wearing this super cute shirt!
If you are looking for a personalized shirt of any design, theme or sport, you have got to check out Inspired Inceptions Etsy Shop. If she doesn't have it pictured, she will try her best to make it!!! Best of all, you will be supporting and promoting a mom business and those are the best businesses (in my opinion!) :)
Buy It:
You can purchase the Thomas the Tank T-shirt for $17.99 from the
Inspired Inceptions Etsy Shop.
If you love this review and my site...
* Thank you to Inspired Inceptions for their product for review! Disclosure - This product was given for review for my honest opinion. No other compensation was given.*