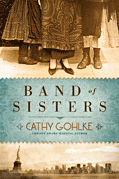 Maureen O'Reilly and her younger sister flee Ireland in hope of claiming the life promised to their father over twenty years before. After surviving the rigors of Ellis Island, Maureen learns that their benefactor, Colonel Wakefield, has died. His family, refusing to own his Civil War debt, casts her out. Alone, impoverished, and in danger of deportation, Maureen connives to obtain employment in a prominent department store. But she soon discovers that the elegant facade hides a secret that threatens every vulnerable woman in the city.
Despite her family's disapproval, Olivia Wakefield determines to honor her father's debt but can't find Maureen. Unexpected help comes from a local businessman, whom Olivia begins to see as more than an ally, even as she fears the secrets he's hiding. As women begin disappearing from the store, Olivia rallies influential ladies in her circle to help Maureen take a stand against injustice and fight for the lives of their growing band of sisters. But can either woman open her heart to divine leading or the love it might bring?
Check a couple of great Questions and Answers from the author, Cathy Gohlke:
Q & A for Band of Sisters:
1. What motivated you to write Band of Sisters?
I've always been fascinated by the abolition of slavery and the civil rights
movement. But I was horrified to learn that there are more than twice as many men,
women and children enslaved today than at the height of the trans-Atlantic slave trade. This book was born of a passion to end modern-day slavery, and most of all, to ask,"What can I do to help in a need so desperate?"
2. Band of Sisters takes place in NYC. Do you think human trafficking is limited to large cities?
No. That is why raising awareness of the crime and education re. the methods used by traffickers is so important. Small, rural, isolated or poor communities are targets just as vulnerable as big cities. Traffickers often enter such communities with bogus offers of better jobs, modeling opportunities for young people, and offers for education. But those dreams are crushed when willing applicants are unwittingly sold as sex slaves or used for pornography, with no way to get back to their homes and families. In some cultures, once a girl has been so abused, she is no longer welcome to return to her family, thereby compounding the problem and sense of hopelessness. Education and understanding is desperately needed on all parts.
3. Human trafficking and the abolition of slavery is such a huge problem, let alone rescuing and restoring its victims. What can I do to help?
*First, learn all you can through reading and talking with individuals and organizations who have already joined the fight:
Google "human trafficking" to learn what is happening in the world.
Contact your local library, social services, churches or police force and ask what is being done in your community to raise awareness and prevent human trafficking. They can help you find books, organizations, and on-line information to educate yourself about:

The crime (what is human trafficking and where in the world it occurs—you will be astonished)
The people at risk
The methods traffickers use to capture and enslave
The tracking down, arrest and prosecution of predators
The rescue, restoration, and healing of victims
The fight to abolish slavery through legal means
The education of men and boys re. the dignity and worth of women and girls
Organizations and/or Individuals that are already working to do the above-

**See my website at www.cathygohlke.com for a growing list of these sites. If you find more, please let me know so I can add them.
*Once you understand what organizations and opportunities are already in place,
determine what you are able and equipped to do. That might include:
Work directly with one of these organizations, either in this country or in a foreign country
Validate, affirm, encourage and engage girls or women who are at risk or in the process of healing
Welcome strangers into your church as part of the church family
Take a rescued victim into your home or provide housing
Mentor a victim, or a girl or woman at risk
Help a woman find safe and gainful employment and/or child care
Help a woman applying for a job find appropriate clothing
Provide childcare and/or transportation when needed
Tutor a student, young or not so young and encourage hopeful options
Invite women or girls for a meal in your home or take them out for a meal or event, using the opportunity to reaffirm their worth
Provide assistance for medical care—practical or financial
Speak up when others make slurring or disrespectful comments re. women, immigrants, homeless, etc.—attitudes must change to make change last
Do not patronize stores, hotels, sporting events or other venues where you believe women or children are trafficked
Provide legal counsel, assistance or finances for same for victims
Write or speak out against trafficking
Hold public figures and men within your circle of acquaintance accountable for their actions toward women and children
Be vocal and proactive about the need to raise a generation of men who will not exploit women and children
Be vocal that the only way trafficking will stop is to eliminate the demand for supply
Support legislation to stop trafficking, to prosecute and to re-educate predators
Write letters of support and concern to elected officials re. human trafficking
Contribute financial support to one of the organizations that is already in place and helping
Create and/or support films, documentaries, plays, or various art forms that raise awareness or needed funds
Fundraise for organizations that are helping
Help to educate publicly or privately those you know re. all of the above
Work with others to create new possibilities
Pray—continually
*Most importantly, realize that while you can't do everything, we can each do something. Together we will raise a symphony that must be heard.
My Opinion
I can describe this book in only two words:
LIFE CHANGING!
Books like
Band of Sisters
can really change the whole outlook you have on life.
In America, you don't hear a lot about human trafficking and human slave labor much these days. Does that mean it isn't happening? Sadly, NO! It still is and it is a sad and scary thing. This book made me look at my life, thank God for blessing me with what I have, and really made me look at my little worries and problems in a whole new perspective!
Besides being life changing in its moral and general storyline, this book was also really well written (which made it is so powerful!). I loved the historical aspect, learning about Ellis Island and what the poor immigrants faced when they arrived in America, and learning about what was going on in that time in our country's history! And of course, I loved the romance that was sprinkled in as well!
When I finished this book, I did something I don't do a whole lot after I finish books: I sat for awhile in awe of how great a book it was, I prayed to God to thank him for my blessings and to pray for those who are affected by the White Slave Trade, and I did a little research on how I could help!
If you are interested in helping or supporting causes against the White Slave Trade, make sure to read Band of Sisters, look at the resources at the end of the book, or check out the great list of resource and other books for research on
Cathy Gohlke's website
.
If you are looking for a book that will literally change your life and your perspective on life, get Band of Sisters
TODAY
and you won't put it down until you have read every word!!!
Buy It:
You can purchase Band of Sisters for $11.89 on
Amazon.com
If you love this review and my site...