Organic bedding in our house is a MUST! We spend the majority of our lives in our rooms and in our beds so I make sure our bedding is safe, organic, and doesn't emit harmful fumes, especially into my children's precious bodies!
So when I came across the Twinko website and saw that they offer eco-friendly infant/ toddler pillows AND they are super cute at the same time, I knew I wanted to receive their pillows and have my son use them!
Twinko
offers items that are tailored around the idea of children being little explorers. Their products are made out of 100% organic cotton fabric and printed with eco-friendly water based ink. Every piece is hand silk-screened in New York City!
We received the cute Kory the Elephant from the Twinko Character Pillows. I immediately LOVED how soft the pillow material was and comfy it was to lay on! I wanted to put it in my bed!!! But I shared like a nice mommy and let my son have it (even though it was meant for my daughter when she was older!) My son would not have it any other way - the minute he saw the cute elephant, he wanted it! :)
These character pillows are locally made in New York City with 100 percent organic cotton fabric and organic cotton filling. All printed with eco-friendly water-based ink. I love that I don't worry about what my son is laying his head on and he will not sleep on ANY OTHER pillow anymore so it must be comfy! :)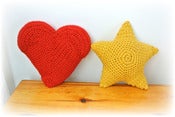 We also received the cute Star hand knitted crochet pillow. Locally handmade in New York City with acrylic yarns and poly filling, it is perfect to decorate any nursery or bedroom and fits perfectly into my daughter's star and moon themed room! I can't wait to put it in her room when we finally get our own house again! For now, my son is safe-keeping it for her and won't fall asleep without it by his side!
So if you are looking for cute decorations for your child's bedroom but want it to be safe, eco-friendly and organic, check out the super cute and comfy selection from Twinko!
Buy It:
You can purchase the Twinko Character Pillow for $40.00 and the Crochet Pillows for $35.00 from the
Twinko online shop
.
If you love this review and my site...
* Thank you to Twinko for their product for review! Disclosure - This product was given for review for my honest opinion. No other compensation was given.*