Are you hosting a Super Bowl Party this year? We are and it will be our first time hosting a party in quite awhile and the first time since we moved back to Minnesota and live near family and friends! We are so excited to watch the game, eat great food and have a ton of fun with friends and family!
Helping me with the food side of things for our party is someone unexpected:
CVS/pharmacy
and their new line of snacks and treats: Gold Emblem!
Gold Emblem is exclusively available at CVS/pharmacy and they just completed a revamp of this popular line. It has a fresh new logo and updated packaging design…not to mention, many snacks and grocery items included have been improved in many ways.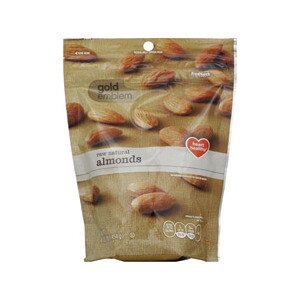 The Gold Emblem line, most popular for its nuts, trail mix, pretzels, candy, crackers and cookies, has just been re-launched with elevated taste and ingredient standards. The line boasts new ingredient guidelines to exclude MSG and trans fats wherever possible, and CVS/pharmacy placed key nutritional information on the front of the new packages to enable shoppers to make more informed purchase decisions.
I love how Gold Emblem snacks are a great option for snacks at our Super Bowl party and my husband also loves to grab a bag of Gold Emblem snacks to eat in the afternoon on his way home from work! He loves the selection!
Some of the great Gold Emblem products we received and love are:
Gold Emblem Classic Blend Trail Mix
Gold Emblem Sparkling Water
Gold Emblem Gummy Bears
Gold Emblem Dark Chocolate Covered Cashews
Gold Emblem Deluxe Mixed Nuts
Gold Emblem Whole Almonds Raw
Gold Emblem Chocolate Chip Cookies
We are all set for our Super Bowl party now thanks to Gold Emblem! My son even has his first football helmet and wears it around all day...even if it is a little big!
Buy It:
You can purchase all Gold Emblem snacks exclusively at CVS/pharmacy stores or online at
CVS.com
If you love this review and my site...
* Thank you to CVS/pharmacy for their product for review! Disclosure - This product was given for review for my honest opinion. No other compensation was given.*