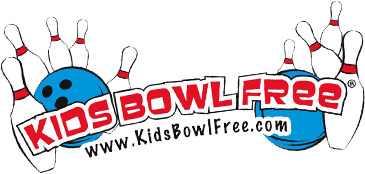 Summer for parents of school aged children can get to be REALLY LONGGGG if you don't have any fun activities plan for the kids! If you are at a loss for what to do this summer on a tight budget, then let me have the amazing pleasure of introducing you to Kids Bowl Free! It is such an amazing opportunity for children to bowl free this summer, get exercise, and have a ton of fun!
Kids Bowl Free
is an amazing brand - designed by bowling centers to give back to the community and provide a safe, secure, and fun way for kids to spend time this summer.
Select bowling centers
and schools around the country are participating in the first ever Kids Bowl Free program.
Families can get two free games for up to six children per day, and family packs for the whole summer are $24.95. Children whose age does not exceed a limit by a participating bowling center are eligible to register for 2 free games a day, all summer long, courtesy of the participating bowling centers along with the schools and organizations.
If you like to bowl as a family, they also have a great deal for the whole family: the Family Pass! The Family Pass was created to allow for adult family members to enjoy bowling throughout the summer as well. The Family Pass starts from $24.95 and includes 2 GAMES PER PERSON PER DAY.
The Family Pass covers up to 4 adult family members. You may have 1, 2, 3, or 4 adults on the family pass. The price of the pass covers all 4 members.
My children are a little young still but I think my three year old will love having a chance to try bowling out and I know my husband and I are going to love our Family Pass because we LOVE to bowl together!
This is such a great program and it is a great chance for your children to get out of the house, stay out of trouble, and do a fun activity alone or with the whole family that will keep them active! Hurry over and
sign your children up today
at your local participating bowling center!
If you love this review and my site...