One of my favorite things to hang on my children's walls as wall decor in their bedrooms is a plaque that talks about the day they were born, what was going on, prices of things, people who share their birthday, etc. I think it is such a great keepsake and it will be so cool for them to look back at when they are older and want to know what life was like when they were born!
The one we received for my daughter is from BKeepsakes and it is so great!! It would really make a great gift for new mother this Mother's Day! Becoming a first time mom can be exciting, overwhelming and a little scary. This Mother's Day, instead of getting her another onesie, why not ease the mom-to-be's nerves with a fun and creative gift from
BKeepsakes.com
.

With a personalized Day-You-Were-Born print, every detail of a newborn's birthday will be remembered. Not only are the date and time of birth recorded, but also current news headlines, historical events that occurred on the same day, popular TV shows and movies, and even the cost of current items.
I received this super cute Celestial border on my print and it matches perfectly with my daughter's star and moon themed room.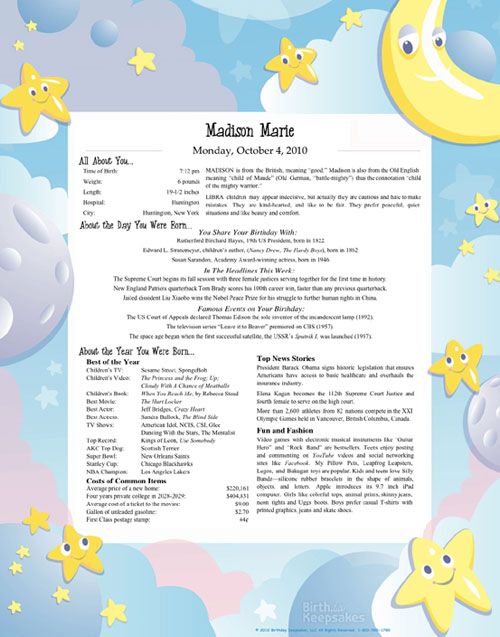 I love all the great info this keepsake shows:
Famous folks who share that special day of birth
Current news headlines and top stories of that year
Historical events that took place on that day
TV shows, movies, popular actors and actresses Children's television, movies,
videos and books
Children's fashions, fads and fun
Costs of common items
Information is based on current and past United States events.
Keepsakes are available in two sizes, 8x10 and 11x14, and can be ordered framed or unframed. The Keepsakes are printed on 100 lb., coated, art-quality acid-free paper, using acid-free inks to ensure beautiful color and a long-lasting family treasure.
So as this Mother's Day approaches, skip the traditional flowers, fruit bouquets and spa products. Choose a special personalized gift from BKeepsakes.com, the original online destination for one-of-a-kind personalized gifts. With unique designs and personal touches to select from, the mom in your life will appreciate the sentimental value of a BKeepsakes original!
Buy It:
You can purchase Birthday Keepsakes starting as low as $9.99 from
BKeepsakes.com
If you love this review and my site...