A product was given for review for my honest opinion. No other compensation was given.
Let me tell you that I am really, really EXCITED about this review (AND giveaway today!!!). And let me tell you why...this Awesome, AWESOME company offers two of my passions in life: certified organic AND wine! This great company is called Organic Wine Company and I couldn't recommend it more! As there motto says, "If you care about what's on your plate, we care about what's in your glass!". It says perfectly why I love organic wine and why I love this company!
At the
Organic Wine Company
, their mission is to connect with the fellow man, especially those who are involved in and living an organic life style: eating organically-produced foods, eschewing genetically-modified products, exercising regularly and caring for the Earth.
They want everyone to know that they can now enjoy critically-acclaimed organic wines, and they suggest that you look for wines made from CERTIFIED organic grapes: wines artistically crafted by the pioneers of the organic wine movement and bottled at the source by the producers. The label should proudly say, "made with certified organic grapes," and a logo from an independent certification agency should be displayed.
I received three great bottles of organic wine and I have some more information about them below: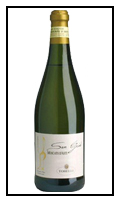 2010 Moscato d'Asti
Mario Torelli
Price: $17.99
This Italian wine is made from a blend of Moscato Rosso, Malvasia Rosso and Trebbiano grapes. It is delicately sweet and delightfully "frizzante" (bubbly) with a special sweetness of Moscato and exotic almond, peach and fruity aromas. This wine pairs well with ripe blue cheese, seafood dishes or spicy Asian cuisine.
This is a simple wine which shows super fruit & balance. Its natural low alcohol content (only 5%) makes this one a great aperitif.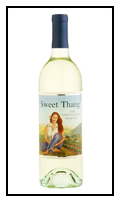 2008 "Sweet Thang" White
Girasole Vineyards - Barra of Mendocino
Price: $14.99
This sweet white blend of Chardonnay and Muscat grapes is a real pleasure. Aromas of honeysuckle, pear, lime and custard. Creamy and sweet flavors of mango, pear, pineapple and green apple. Perfect for cocktails, Chardonnay girls: you'll love that !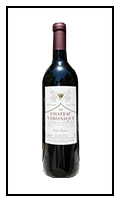 2010 Chateau Veronique
Chateau Bousquette
Price: $15.99
From Languedoc in the South of France, this wine is a blend of 30% Carignane, 30% Grenache, 20% Syrah and 20% Mourvedre grapes. Dry, jammy fruit flavors of plum, black cherry and blackberry enhanced by hints of black pepper. An excellent match with just about any dish.
Veronique Raskin's family started growing grapes in the south of France in the late 1700's. Grapes led to wine, and their 50 acre family estate, Chateau Bousquette, in the South of France, became a working winery soon thereafter. Still, it wasn't until 1993 that Veronique's brother and Bousquette's winemaker, decided to bottle a wine in honor of Veronique's pioneering efforts to promote organically grown wine in the United States.
"Bousquette" (pronounced boo-sket) in French means thicket or grove. The word aptly describes the property: a simple family estate nestled in pine trees, lavender and thyme, overlooking miles of vineyards stretching all the way to the foot of the volcanic mountains, the Cevennes.
The vineyards are moderated by the cooling breezes from the sea, giving the grapes a long, even growing season. The result is Chateau Veronique, a dry, medium-bodied wine with a jammy fruit character of cherry, plum and blackberry complemented by aromas of straw and oak.
AOC Coteaux du Languedoc
40% Carignane, 40% Grenache, 20% Syrah
Bottom Line: These wines taste great and are great because they are made from organic grapes! I absolutely love that they offer a wide variety of tastes, colors, and brands for every wine connoisseur AND they are affordable! Sometimes you think you can't find that with organic products...well now you can with the organic wine from Organic Wine Company!!!
Win It:
Organic Wine Company is generously offering (1) $50 gift certificate to a lucky winner!
Enter here for a chance to win:
(1) $50 Organic Wine Company Gift Certificate
a Rafflecopter giveaway
* Thank you to Organic Wine Company for their product for review! Disclosure - This product was given for review for my honest opinion. No other compensation was given.*