A product was given for review for my honest opinion. No other compensation was given.
Is your waist line killing you? Are you looking for something to help you achieve that toned and defined physique you've always wanted? Time for you to get chiseled and kick it up your fitness level a notch! With
Get Extremely RIPPED! and Chiseled
, you'll challenge every muscle of your entire body with new and innovative fitness exercises using 3-8 pound hand weights and a step (optional). The fitness exercises are designed to create the ultimate burn and help you get the best results possible! Targeting each muscle group separately with 2-3 different weight training fitness exercises helps you save time and challenge your muscles effectively. You will build new lean muscle tissue and boost your metabolism for hours; allowing you to burn fat even while you rest!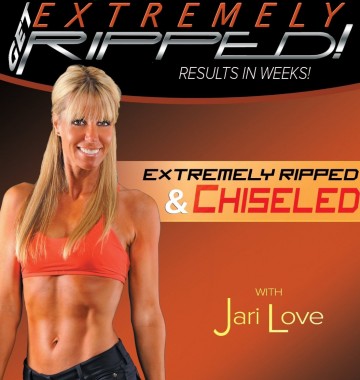 Jari Love, creator of the Get RIPPED! Workout DVD series, is a certified personal trainer and is on the advisory board for Fitness Magazine. Jari has been featured on Fox News and has appeared in numerous publications including The New York Times, Oprah's O-Magazine, USA Today, Shape, Oxygen, Health and Prevention. Jari has over 20 years of experience helping both men and women lose weight.
Includes:
Innovative exercises for each muscle group
30 minute upper body weight workout
30 minute lower body weight workout
Option to do both segments together for a complete 60 minute workout
On-screen clock for each exercise segment
5 minutes to RIPPED! Abs
Buy It:
You can purchase the Get Extremely RIPPED! and Chiseled for $14.99 from
Amazon.com
.
* Disclosure - This product was given for review for my honest opinion. No other compensation was given.*