A product was given for review for my honest opinion. No other compensation was given.
I can still remember back to my first child and when the crawling stage happened...my son WAS NOT a calm, relaxed, sit back and look around baby! In fact, he got into everything by four months old when he started crawling - knocking down lamps, hitting his head on sharp corners and pulling things off shelves! I very quickly learned to baby proof my house and prevent my son from injuries!
I am now onto my third child due in July and I am still baby proofing and learning about dangers around the house! The latest one that scares me is flat screen TV's! Due to increasing sizes and new ultra thin designs, today's flat panel TVs can tip when bumped or pulled, causing them to topple off furniture, potentially causing injury or even death. According to the American Academy of Pediatrics study, more than 17,000 children – one every 30 minutes – are treated in emergency rooms across the country for TV related injuries every year. By following tips from celebrity interior designer Genevieve Gorder, and SANUS®, the #1 best selling TV mount brand in the United States, baby proofing can be a breeze.
Genevieve Gorder's Baby Proofing Tips:
TV Safety is Mounting
o Little ones love to crawl, climb and explore; mount your TV to capitalize on square footage as this will instantly add a more open look to any room and ensure safety by putting this appealing device out of little arms' length
o Ideal for any interior design layout,
SANUS
® offers a complete line of TV wall mounts including full motion, tilting and fixed position
Reduce Clutter
o While surrounding furnishings are sure to add elegance to the space, clutter is never a good look; amend complexities so the viewer is not distracted when watching TV and your baby is not met with obstacles, etc.
o Avoid placing remote controls or other items in places where little ones might be enticed to climb up or reach for them
Bye, Bye Furniture
o By placing your Roku, BluRay and cable box on a shelf on the wall or behind a mounted TV you eliminate the need for furniture altogether – which means more useful square footage, and the elimination of your makeshift, indoor jungle gym
"Dress Up" Your AV Accessories
o Find essential accessories for your AV system and its surrounding décor, such as the SANUS® cable tunnels to hide TV and power cords, at www.SANUS.com; this way choking hazards stay concealed and everything is perfectly accessorized and styled safely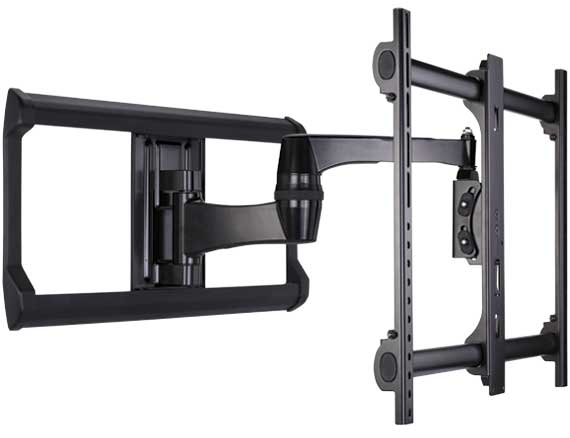 In our house, we keep our children safe using the
SANUS VLF220 Full-Motion Wall Mount
for our 46" flat screen.
The SANUS VLF220 full-motion mount for 37" – 65" TVs up to 130 lbs / 59.09 kg is engineered for the easiest installation possible. The QuickConnect™ system allows the TV to snap onto the arm assembly with one easy movement and unlock with the push of a tab. The amazing FollowThru™ in-arm cable channel protects and completely conceals all cables without inhibiting movement, even through the elbow. Post-installation level adjustment allows the TV to "roll" up to 5º clockwise and counterclockwise to ensure it is perfectly level, and lateral shift makes it easy to center the TV on the wall, even with off-center studs.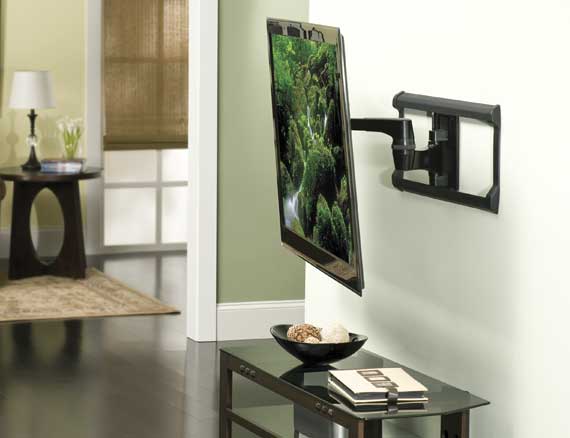 Virtual Axis™ allows the TV to tilt up or down with the push of a finger, helping you reduce glare from lights or windows and find the perfect viewing angle. It contains universal mounting brackets.
Full-motion mount extends, pans, tilts and swivels for easy viewing anywhere in a room
FollowThru in-arm channel completely conceals and routes cables for a clean appearance
Virtual Axis provides smooth tilt motion with the touch of a fingertip
Post-installation leveling adjustments allow TV to be perfectly positioned after hanging
Lateral shift allows TV to slide left and right for perfect placement, even with off-center studs
It allows our family to view the TV from all over the room no matter where we are sitting and it keeps our babies safe!!! LOVE IT!
Buy It:
You can purchase the SANUS VLF220 Wall Mount from the
Sanus website
and from local retailers.
* Thank you to SANUS for their product for review! Disclosure - This product was given for review for my honest opinion. No other compensation was given.*