A product was given for review for my honest opinion. No other compensation was given.
Looking for two great new workouts? Check out these two new workout DVDs from
Jessica Smith
!
A certified wellcoach and fitness lifestyle expert, Jessica coaches clients, health professionals and wellness related companies, helping them to "find the fitness within." With over 13 years of experience in the industry, Jessica has starred in numerous best-selling DVDs and is host of JESSICASMITHTV on YouTube. She has been a featured trainer for Exercise TV and Seventeen Magazine, and is the creator of the 10 Pounds DOWN DVD Series and co-creator of "Cross Training for Fitness", which she developed along with her husband, 4th degree black belt Guillermo Gomez.
Check out two of her new DVDs: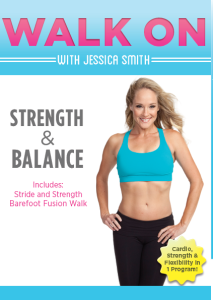 STRIDE & STRENGTH (30 Minutes)
A half-hour is all you need to burn fat and build metabolism boosting lean muscle mass with this two-in-one session! Burn more calories in less time with this maximum results routine that couples HIIT (high intensity interval) cardio training with circuits of strength exercises to make every second of your workout count. A set of light dumbbells (2- to 8-pounds, depending on level) is recommended, though not required, for this walk. We recommend this routine every Monday, Wednesday and Friday.
FUSION WALK (30 Minutes)
Balance your body with this flowing, feel-good endurance focused walk that fuses together movements from dance, kickboxing and Pilates. This walk is done barefoot (shoes may be worn if preferred) in order to fully engage and strengthen the muscles of the feet and ankles. We recommend this routine every Tuesday, Thursday and, if desired, Saturday too.
Walking based exercise for all levels
Beautiful outdoor setting
Fun, simple steps
Two different walking programs for every day of the week
3 BALLET-INSPIRED WORKOUTS TO SCULPT, SLIM, AND STRETCH YOUR ENTIRE BODY
CARDIO BALLET (20 Minutes)
Forget that boring treadmill; burn calories with the grace of a ballerina! This fat-burning, ballet-inspired session works up a surprising sweat in a small amount of space, no equipment required.
BARRE BURN (20 Minutes)
Lift, shape and define your entire body with this cardio sculpting barre workout. A sturdy chair and a set of light hand weights (2- to 8-pounds, depending on level) are recommended for this routine.
FLOOR BARRE (20 Minutes)
Cinch, tighten and stretch - without ever leaving the ground - with this total body conditioning routine. A mat and a small soft ball or pillow are recommended for this workout.
* Disclosure - This product was given for review for my honest opinion. No other compensation was given.*