A product was given for review for my honest opinion. No other compensation was given.
Father's Day is this weekend (I can't believe it!) and if you have a new baby in the house or know a Daddy with a new little one, Philips AVENT is here to help you with great Father's Day gift ideas for that new Daddy!
Check out two great products below that allow dads to spend even more bonding time with their child by helping with nighttime bottle feedings and helping out mom with the feeding:
Because dads should get in on feeding action too...
There comes a time, even with nursing moms, that mom needs a break and with this great manual Comfort Breast Pump, moms can pump so that dads can feed baby the same nutritious breastmilk during "Daddy and me" time. You won't believe how easily babies will transition between breast and bottle!
And it is great for mom too with innovative massaging petals in the soft breast cushion mimic baby's natural suckling to help simulate letdown and milk flow and it delivers the same suction as an electric breast pump and is the ideal on-the-go solution.
With this pump, Mom can sit comfortably upright while they pump. Unlike breast pumps that only operate properly when you lean forward, the Philips AVENT Comfort Manual Breast Pump allows you to sit comfortably upright as you pump. The breast pump's angled neck lets milk flow naturally from breast to bottle while you relax. And when you're able to relax it has a positive effect on your milk flow and quantity produced.
The pump also features a soft cushion with five textured petals intended to gently help stimulate milk flow. The cushion mimics your baby's natural suckling patterns to stimulate milk flow and make pumping more comfortable.
To help prevent wasted milk, the collection container that connects to the pump also works as a bottle with the included natural, breast-shaped nipple. This nipple makes transitioning between breast and bottle easier for your baby by encouraging comfortable latch-on.
The breast pump has an uncomplicated design with only a few parts that are easily assembled and an ergonomic handle for comfortable positioning and operation with one hand. When it's time for cleanup, all parts can be washed in the dishwasher. The pump's compact size makes it ideal for storage and discreet use. It can be sanitized using a Philips AVENT steam sterilizer or by boiling in water for five minutes.
Check out the great Natural AVENT bottles below that are compatible with this pump:
For those midnight feedings:
The Philips AVENT Natural Bottle helps to make bottle feeding more natural for your baby and you. The nipple features an innovative petal design for natural latch on similar to the breast, making it easy for your baby to combine breast and bottle feeding.
The wide, breast-shaped nipple makes it easy for baby to latch-on even when mom is away.
Plus, the unique comfort 'petals' inside the nipple increase softness and flexibility without collapse. Your baby will enjoy a more comfortable and contented feed.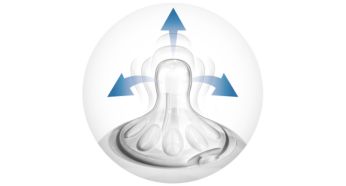 And reduce pain and colic in your baby's tummy with the advanced anti-colic system with the innovative twin valve that allows air into the bottle – not baby's tummy!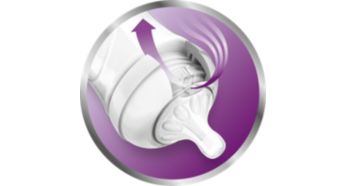 And now you can get it in really cute patterns like Elephant, Monkey and Flower designs!
Buy It:
You can purchase these Philips AVENT bottles and pump at your local retailer.
Win It:
Philips AVENT is generously offering (1) Manual Comfort Breast Pump and Natural Bottles to a lucky winner!
Enter here for a chance to win: