I participated in an Influencer Activation on behalf of Mom Central for Huggies and Target. I received product samples to facilitate my review as well as a promotional item to thank me for my participation.
My 10 week old son goes through A LOT of diapers as you can imagine. We like to cloth diaper when we can but when we are out and about and at night, we usually use disposable diapers.
Now as most of you know, babies have "blowouts" on occasion and when my son does, I always want to have a quality diaper on him that will keep it all in!


So where can you turn when you want to hold in the blowouts and prevent leakages?
Huggies
Snug & Dry Diapers! They have a SureFit design for up to 12 hours of leakage protection and a flexible waistband for even more comfort so they will stay with your baby through all the twists and turns. As my son gets more and more active and starts to crawl and roll and even walk, these diapers stick with him no matter where he goes or what he goes!
Huggies also offers Natural Care Wipes with triple clean layers that are thick enough to handle any mess, with a texture that's soft against your baby's skin. I love these wipes because I like to be careful about what goes on my baby's sensitive baby skin! These wipes offer a sensitive, gentle clean for new baby's naturally perfect skin and, best of all, they are hypoallergenic, fragrance free and alcohol free. That gives me peace of mind and a wipe that really works!
Plus, they are sensitive, safe enough and effective to use in other ways on a daily basis! When I get out of the car with the children and see that I missed a messy face or sticky hands, I usually reach for a wipe. They are also great for quickly cleaning up spills in the car or in the house. You can even use them to wipe off grocery carts, toys or car seats that get dirty! These Huggies Natural Care Wipes do wonders for messes...and not just messy butts!
Plus, the wipes come in designer tubs to match any room, refill packs to stock up, convenient soft packs, stylish on-the-go-containers, or pop-up tubs so that you have the right wipe for your baby in the right style for you.
Want to know the best news of all?? It is easy to find both Huggies products in local Target stores near you! I found both the Huggies Snug & Dry diapers and Natural Care Wipes easily in the diaper and wipe aisle! They had my size right on hand and they were easy to find!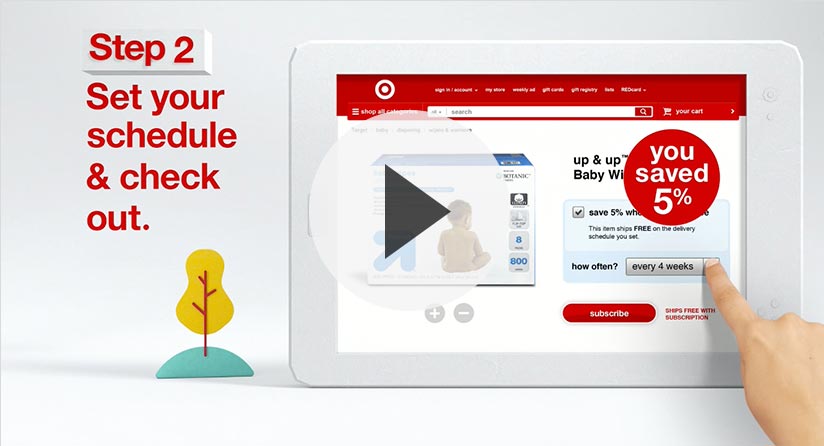 And if you don't want to go out (or it is hard with little children like with me...), then order online at Target.com OR check out
Target's new subscription program
for automatic shipments of diapers, wipes, formula and other household essentials. This way, when you're running out of your baby essentials, there is another order already on its way!
I absolutely LOVE the subscription idea for getting my diapers and wipes! I wouldn't have to worry about shopping with three toddlers and I wouldn't have to worry about late night runs again for diapers or wipes that I just noticed were gone (probably when I am in the middle of a major diaper blowout!). The diapers and wipes just show up at my door and they are there when I need them - EVERY TIME! Plus, you save 5% on all orders and you get free shipping!
For more info about Huggies, check them out and follow them on
Twitter
and
Facebook
. And make sure to print off these
Huggies coupons
to save money on your next purchase!
* I participated in an Influencer Activation on behalf of Mom Central for Huggies and Target. I received product samples to facilitate my review as well as a promotional item to thank me for my participation.*