A product was given for review for my honest opinion. No other compensation was given.
If you are like many new parents these days,
Bumbo
seats were on your registry, the seat was used for numerous months with numerous children and it is the one baby item you recommend to new parents. Well, at least that is how I was as a new parent! And I still use a Bumbo seat with my third child and still love it!
So I was SO EXCITED to hear that there is a NEW Bumbo product out there: the Multi Seat which serves as a Floor Seat for your infant, Feeding Seat as your one little learns to feed themselves and a Booster Seat as they learn table skills. I was so excited to try this seat with my son because he is just starting to outgrow his Bumbo seat!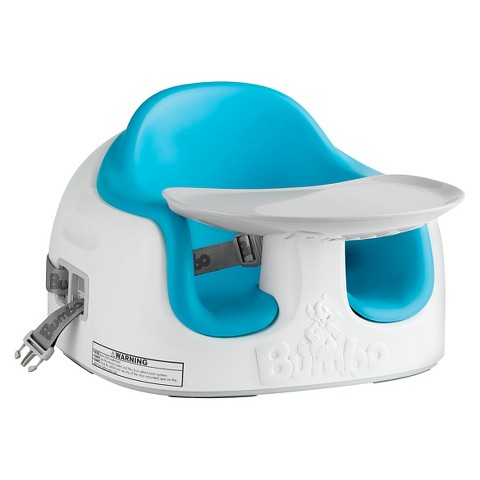 The NEW Bumbo Multi Seat is ideal for use as soon as your baby can begin to sit unassisted, and will see your child through to the toddler stage with a seat that grows with your child. With attachment straps to easily convert from a floor seat to a booster seat, you can begin enjoying key developmental milestones from feeding to playtime.
My son is always comfortable in this seat with the soft, removable foam insert that is added for extra comfort but it can be removed to create more room as they grow. The removable tray attaches to the back of the Multi Seat for easy storage and transport.
I absolutely LOVE how the base adjusts to accommodate children at different stages and the adjustable straps and 3 point harness is perfect for keeping my wiggly son in the seat and safe from falling!
I also love how the tray doesn't get in the way or lost when not in use because it stores on the back of seat and it is easy to use when needed because it can be attached and detached with one hand which is usually all I have available! :)
'
This seat also has additional great storage because the foam seat insert and retractable straps store in base of seat! How awesome is that??!!
I didn't think they could do much more to improve the original Bumbo seat but they really have done that with the Bumbo Multi Seat! I will be using this seat with my son for many years to come! It is easy to use, easy to store the parts, grows with my son, and I can lift it, put the tray on and buckle my son with only one hand!!
Buy It: