A product was given for review for my honest opinion. No other compensation was given.
According to the Skin Cancer Foundation (SCF), in 2015 more than double the amount of men will be die of melanoma compared to women. Skin cancer is the 5th most common cancer in males, and white men over age 50 represent the majority of melanoma diagnoses. Along with Father¹s Day, June is Men¹s Cancer Awareness Month, the perfect time to educate men on the importance of sun safety, and
give them the gift of sun protection
.
How Can You Do This???
With gifting that special Dad in your life with the awesome sun-protective and stylish clothing from
Coolibar
, that's how!
More than 90 percent of skin cancer is caused by the sun's rays, making it the most preventable form of cancer. The SCF recommends sun-protective clothing as the first line of defense against UV exposure, which can lead to cancer. Coolibar, the first sun-protective clothing company to receive the SCF's Seal of Recommendation, has a few tips for men to stay protected from harmful UV radiation when outdoors:
It goes without saying that long pants and long-sleeve shorts cover more skin surface when outdoors, but traditional fabrics can be hot. Choose items that are lightweight and breathable such as Coolibar's sport polo and fitness pants for maximum protection and comfort.
While dad¹s old baseball hat is better than nothing, wearing a wide-brim hat provides extra coverage to the neck and shoulders, areas that often get more sun exposure. Every inch of hat brim can lower your lifetime risk of skin cancer by 10%.
Remind dad to reapply sunblock to exposed areas every two hours, or after swimming or sweating. Set his phone alarm as a reminder.
Get dad his own sunscreen and a hat to keep in his golf bag or with his running or fishing gear so it¹s always accessible when needed.
Get him a swim shirt specifically designed for water activities to wear while at the pool or beach. These provide maximum sun protection, cover a large amount of exposed skin, and dry quickly so they are great for trips.
All the fabrics used in Coolibar clothing are of the highest quality and come with a UV protection factor (UPF) of at least 50. With a proprietary process that embeds sun protection inside its fabrics, the protection is guaranteed to never wash out, or fade, and the fabrics withstand sun, saltwater, chlorine, sweat and heat. Created for activity and movement, Coolibar garments are lightweight, soft, breathable, moisture wicking, fast drying, cooling and anti-microbial.
My husband received some great items from Coolibar to try out and they have become some of his favorite clothing to wear! Check them out below:
Fitness Pants
These pants are incredibly lightweight and feature non-cling fabric that wicks moisture and blocks UV.
These fitness pants also feature zippers at leg bottom, side mesh pocket, single back zip pocket, and elastic waistband. Straight leg, relaxed fit.
These pants are great to wear this summer when trying to avoid the bugs, exercising or pretty much doing anything! They are really lightweight so they are not too hot to wear this summer!
Sport Polo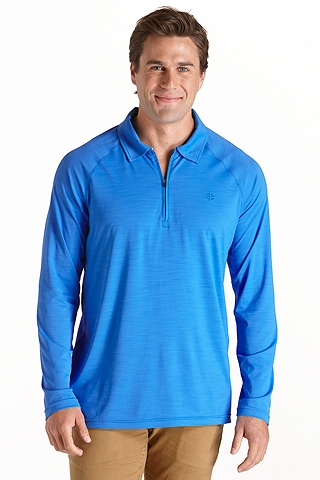 This Sport Polo features feather-light, soft knit SUNTECT® fabric that's so lightweight and soft you'll never believe it delivers UPF 50+ sun protection.
The print creates a terrific look, and a light stretch lets you move around effortlessly. Cooltect technology accelerates moisture wicking for a cooler workout. A quarter zip front lets you slip it on and off easily, and reflective piping around the zipper provides subtle detail.
This Polo is SO COMFORTABLE and Soft! I LOVE my husband in this and he loves to wear it! It is super lightweight so he doesn't get hot in it and it can be dressed up or down!
Fitness Shorts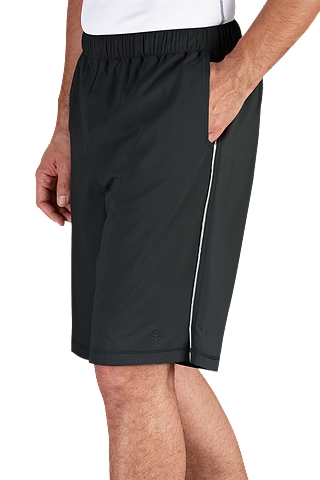 These Fitness Shorts have features to brag about: lightweight, fast-dry performance and UV-blocking ability. They are basketball short styling with a loose fit, straight leg.
My husband would wear these every day if he could! He loves how comfortable they are, the great pockets for carrying his phone and how lightweight they are. And they are UV protective on top of it all!
Buy It:
You can purchase all Coolibar items from the
Coolibar website
* Thank you to Coolibar for their product for review! Disclosure - This product was given for review for my honest opinion. No other compensation was given.*