A product was given for review for my honest opinion. No other compensation was given.

No matter what activities you and your tot are enjoying during these warm months - family vacations, road trips or even just errands – we all know both mom AND toddler's best friend a leak-proof, easy to use sippy cup – is essential.
And one thing I have learned with my third child is that finding a good fit can really be a challenge!
That's why I really appreciate Philips Avent and the fact that they have created a four-stage toddler range – featuring everything from bottle trainers to grown-up cups.
To help you learn which might be the best fit for your toddler, they have also teamed up with Scholastic to create "
Sip, Sip, Hooray
," a story of several toddler friends and a mischievous Mama "Sippopotomus" who's hunting for the perfect sippy cup for Baby "Sippo."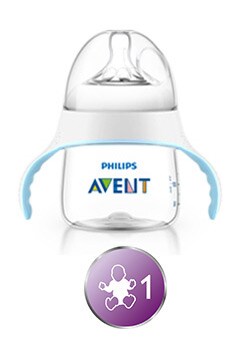 With the Philips Avent My Trainer Cups, toddlers can easily graduate from bottle to sippy cup. Begin with the familiar silicone nipple on top, and then graduate to the soft spout – the rubberized trainer handles make it easy for little hands to grip the cup when they're ready.
With the Philips Avent My Penguin Sippy Cup, soft and hard spout options provide developing toddlers with a truly leak-free drinking experience, while soft-touch trainer handles help them grip cups independently. When toddlers are ready to hold cups without handles, thePhilips Avent My Easy Sippy Spout Cup has an easy-to-grasp ripple shape, designed for a no-slip grip.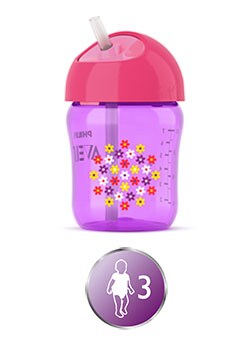 A perfect companion for your on-the-move little one, the Philips Avent My Twist n Sip Straw Cup features a soft, silicone straw that will introduce your child to a bran
d new type of drinking experience. The cup's unique twist lid will keep its straw clean and hygienic while you and your tot are on the go.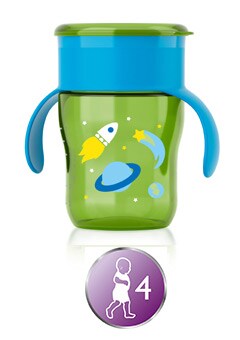 A first of its kind, the Philips Avent My Natural Drinking Cup promotes independent drinking with its 360 degree, lip-activated rim. Milk or water will only release from the cup if the toddler has his lip pressed against this rim, enabling them to drink like a grown-up, while staying 100% spill-free!
I have really been having a hard time finding a sippy cup my son will drink out of. He is just exclusively breastfeeding but is nearing his 1st birthday and I still haven't found a sippy cup he would drink out of.
So I was so excited to try this line from Philips Avent to finally find a cup he will drink out of. I knew if I couldn't find one he likes from this selection, then I wouldn't find one anywhere!
And luckily, one of them did work!!! So he still won't suck from a sippy, but he advanced straight to the Stage 4 Natural Drinking Cup!
And let me tell you, I absolutely LOVE this cup! It allows him to drink like he is drinking right from a regular cup, but it only allows a little to come out at a time so that he doesn't spill everywhere!
He absolutely LOVES the cup also and I am so glad we finally found a fit where he can keep hydrated in this hot weather!
And BONUS: he looks SO CUTE using it!!!! :)
Buy It:
You can purchase the Philips Avent toddler cup range at local retailers
Win It:
Philips Avent is generously offering (1) Full toddler cup range (FOUR cups) as well as a hard copy of "Sip, Sip, Hooray" to a lucky winner!
Enter here for a chance to win:
(1) Full Toddler Cup Range from Philips Avent
(FOUR CUPS!)
PLUS
"Sip, Sip, Hooray" Book
a Rafflecopter giveaway
* Thank you to Philips Avent for their product for review! Disclosure - This product was given for review for my honest opinion. No other compensation was given.*