A product was given for review for my honest opinion. No other compensation was given.
Music is such an important of many people's lives! I know I personally listen to music ALL DAY LONG. Whether I am listening on the radio, as I workout and run or whether I am working, music is on!
If you have a music lover on your list this year, give them a great way to listen all day - no matter what they are doing!
Motorola VerveLife Rider+ earbuds are Bluetooth earbuds that deliver incredible HD sound - featuring IP57 waterproof protection.
You deserve to hear music and calls in comfort, anywhere. That's why there's the new VerveRider+ Wearable, Waterproof Stereo Earbuds. Headphones designed with IP57 water/sweat proof protection(1), you can wear them inside on the treadmill or out in the rain without worry.
Enjoy powerful HD sound and a comfortable wear style. The VerveRider+ bring you the perfect listening experience, along with the perfect secure fit. Wherever you go, the contoured collar design is made to move with you, so it hardly feels like you're wearing them at all. The VerveRider+ headphones include multiple sizes of removable ear gels to provide all day comfort. Wear them all day, tuck them under your collar where they won't be seen and you'll forget you have them on.
IP57 water/sweat proof, enabled by HZO Protection™, is the industry standard for liquid protection which enables the water and sweatproof capabilities of the VerveRider+, by protecting the internal circuitry of the device with a thin, transparent layer. Truly, Protection from the Inside Out®.
Lose your headphones? Find last connected location on a map with Hubble Connect for VerveLife(4). Hubble Connect lets you locate where your device was last synced so that it's never lost. VerveRider+. Unplugged, still connected, never lost.
You can purchase the Motorola VerveLife Rider+ earbuds for $99.99 from the VerveLife website.
Jabra Sport Pulse Special Edition are the world's first sports headphones to feature automatic (and continuous) VO2 Max fitness testing
Jabra Sport Pulse, launched in September 2014, brought in-ear biometric heart rate monitoring to sports headphones for the first time. Two years later, the Jabra Sport Pulse Special Edition takes another innovative step by using the in-ear heart rate monitor (together with the Jabra Sports Life app) to constantly calculate your VO2 Max level – a globally recognized and established test of aerobic fitness – and automatically measure your fitness level.
Whether a seasoned athlete or just trying to get fitter, the personalized VO2 Max data generated by the Jabra Sport Pulse Special Edition allows you to track your fitness development and get the most out of your workout. It uses intelligent in-ear coaching to provide real-time feedback based on your heart rate and fitness level. When you've finished your run, the Jabra Sport Life app provides a range of information to help you improve your fitness level in the future, including distance covered, pace, route, calories burnt and training effect.
In addition to a choice of different sized ear gels and ear wings, the headphones now come with COMPLY® Foam Tips as standard, keeping the earbuds securely locked in-place throughout your workout. They also provide improved sound-quality for calls and music, with passive noise cancellation and enhanced bass.
These headphones offer certified dust and water resistance (to IP55 standard) and are tested to US military standards against wind, rain, sweat and shock impact. Reinforced by a three-year extended warranty against sweat, you can be confident that both sets of headphones will perform, no matter how challenging your workout.
Jabra Sport Pulse Special Edition feature:
o NEW automatic (continuous) VO2 Max fitness testing
o In-ear biometric heart rate monitoring
o Advanced planning and tracking based on heart rate
o Resting Heart rate test
o Orthostatic Heart rate test
o Smart in-ear audio coaching
Purchase the Jabra Sport Pulse Special Edition for $159.99 from the Jabra website.
And for the children on your list that love music, check out these fun items!
Descendants Earbuds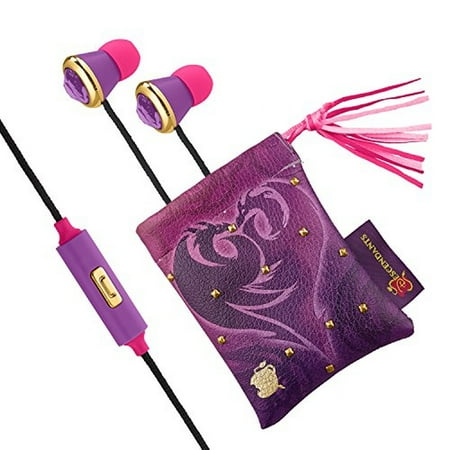 The Descendants Earbuds include a matching-travel pouch for added portability. With a built-in microphone that allows calls to be received when listening on a smartphone.
The 10mm micro-driver provides detailed, size defying sound with enhanced bass response. While the soft ear cushions ensure optimum noise-isolation and personalized and secure fit.
Purchase for $14.99 from Amazon.com
Descendants MP3 Microphone
Sing along with the newest Disney hit movie,The Descendants! This super-cool MP3 microphone features built-in voice effects that create the ultimate concert, right at home! Connect your audio device to rock out to your favorite playlist, too!
This is a real working microphone with built-in speaker and a cord stores neatly inside mic when MP3 connection is not in use.
MP3 Player not included.
Purchase from local retailers like Walmart for $19.35
* Disclosure - This product was given for review for my honest opinion. No other compensation was given.*