A product was given for review for my honest opinion. No other compensation was given.
Practical gifts for the home can be such great gifts for people who enjoy cooking, cleaning or entertaining this holiday season or for newly married couples or new homeowners! They really are a gift that can be used over and over and, therefore, it keeps giving!
Check out some of my favorite gifts for the home this holiday season:
For maximum aroma and flavor retention nothing beats the Infinity Conical Burr Grinder. Conical burr grinders provide the widest range of precision grinding for every type of brewing method from Turkish, espresso, drip coffee, French press, pour-over brewers and percolators.


Features and Benefits:
Extremely wide grinding range from ultrafine Turkish to coarse for all kinds of coffee preparation
Commercial-grade solid conical steel burrs with advanced cutting design for high precision grinding
16 clearly marked fineness settings with four levels for each: extra fine, fine, regular and coarse
Gear reduction motor grinds slow with reduced noise and little static build-up
Slowest grinding speed in its class creates less friction and heat buildup preserving maximum aroma and flavor for all grind settings
Safety lock system for safe operation during and after use; auto off when upper burr is not locked
Upper conical burr removable for easy cleaning
Tight-fitting ground coffee container holds up to 4 oz of ground coffee
See-through bean container holds up to 8.8 oz of beans
Timer can be set to grind from 5 to 60 seconds
Pulse grinding
Elegant, timeless and user friendly design
Colori®+ Classic knives offer convenience through their sharpness, secure-grip handles, and lightweight design, making all of your kitchen prep tasks a breeze.
This versatile set offers a greater amount of control for slicing, de-boning, and other kitchen prep-tasks.
Each knife has a sharp Japanese stainless steel blade with a colorful ergonomic handle and matching safety sheath. Japanese stainless steel blades are super sharp, making short work of cooking tasks.
Set contains:
Paring Knife: perfect for slicing cheese for your sandwich, peeling an apple, or chopping vegetables.
Serrated Paring Knife: perfect for slicing bread, tomatoes, and other soft fruits.
Utility Knife: for de-boning meats and other tricky kitchen tasks.
Serrated Utility Knife: perfect for slicing smooth-skinned fruits and vegetables, bread, or meat.
Purchase for $30 from the Kuhn Rikon online shop
The Shark® Rocket® Complete with DuoClean™ Technology has the power of two distinct brushrolls spinning in unison to remove dirt from carpets and bare floors of every type.
Shark's most technologically advanced ultra-light upright provides remarkable floor to ceiling cleaning and obliterates embedded dirt and stuck-on dust, while providing improved flexibility.
With Triple Particle Cleaning designed for an incredible clean, the new dual brushroll system automatically transitions from floors to carpets.The dirt that gathers on floors and in carpets comes in three sizes - small, large, and stuck-on. Cleaning all three can be a real challenge for an ordinary vacuum. With Triple Particle Cleaning™, there's no need to rely on dustmops and brooms to get the dirt left behind.
With two brush rolls working together, the Shark Rocket Complete with DuoClean Technology picks up large particles, small particles, and stuck-on particles — on all types of floors and carpets.
Purchase for $199.80 from the Shark website.
This Vtech home phone system comes with a garage door sensor that alerts you when your garage door opens. Additionally, the included open/closed sensors can be placed on windows, doors and medicine cabinets, providing an alert system for homeowners when an off-limit area is accessed. Alerts can be sent to both the home phone system as well as any mobile device.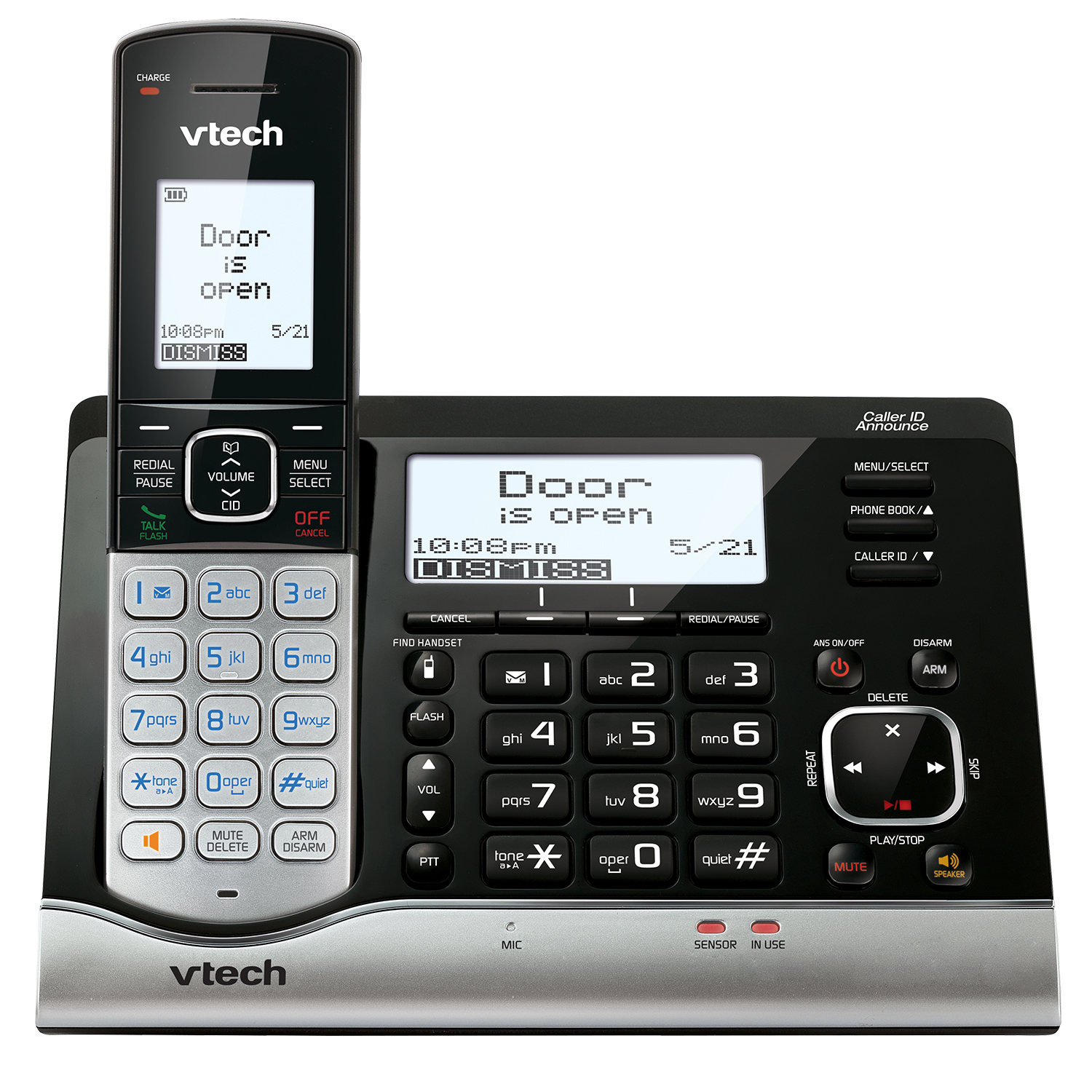 This system includes:
Garage door sensor: Receive alerts on your home phone when your garage door opens.
Open/closed sensor: Know if important areas are secure with magnetic sensors you can put almost anywhere, including windows, doors and medicine cabinets.
Sensor alert: Hear and see the message "door is open," so you'll know if you forgot to close it, or when someone has entered the house.
Programmable alerts: Customize when you receive alerts: when the garage door or an object opens, when it has been open for more than a certain amount of time, or after a certain time of day.
Remote alerts: The VTech Wireless Monitoring System can call any number to announce programmed sensor alerts.
Purchase for $119.95 from the Vtech website
Oster® Pizza Drawer Oven
Bake, broil, toast and more with the Oster® Convection Oven with Pizza Drawer. Specially-designed pizza drawer is ideal for preparing a variety of foods such as pizzas up to 12", bruschetta and quesadillas. The top oven features turbo convection baking technology to cook faster and brown food more evenly for perfect results. Either way, you'll enjoy the flexibility and convenience for making delicious meals and snacks with ease.
Features:
Turbo convection heat technology circulates hot air through the oven for faster, more even cooking
Adjustable temperature and cook settings
Adjustable broil control for broiling at any temperature
60-minute, audible signal timer automatically turns the oven off when cooking is complete
Two rack positions accommodate a variety of foods
Durable baking pan and baking rack double as a broiling pan when assembled
Cool-Touch handles for safe operation
Easy to clean with removable pizza oven rack and crumb tray
Note: Pizza Drawer and Upper Oven cannot be used simultaneously
*Disclosure - This product was given for review for my honest opinion. No other compensation was given.*